Happy May Day dear friends!!! It's hard to believe it's already the first of May and it's time to start a new Glitz Design challenge!!! Here's the challenge: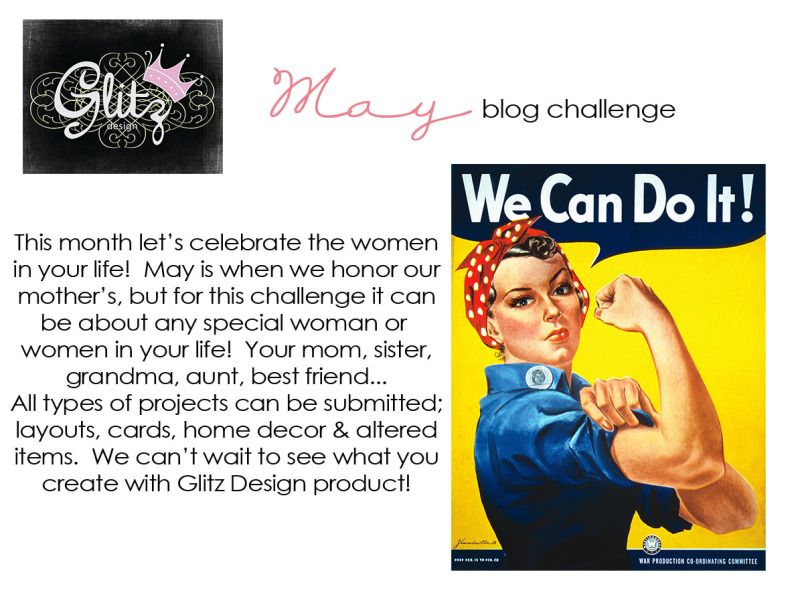 What an awesome challenge for the Month of May!!! For me personally, Mother's day is a tough day. My mom is no longer here with us, but I know she is always in my heart and I think about her each and every day! So, for my challenge cards I chose to make Thinking of You Cards to honor my mom. Here's my take on the challenge:
:
There are lots of layers in this card including a Peek a Boo from the French Kiss line of goodies. I printed the sentiment onto cream cardstock and then inked the edges. I covered the sentiment with a Pretty Ink Pink Glitzer and then fussy cut the edges. It makes for a perfect custom-made sentiment!!
Supplies Used: Glitz Design Pretty In Pink 6x6 Paper Pad Glitz Design Pretty In Pink Glitzers Glitz Design French Kiss Peek a Boos
Other Supplies: Papertrey Ink Rustic Cream Cardstock; Canvas Corp Burlap Heart; Doily, Buttons, Pearls, and Seam Binding from my stash
The next card is made using the beautiful French Kiss Whatnots as inspiration. I totally love the French Kiss Whatnots!! They are completely gorgeous!!
I used a little heirloom lace, seam binding ribbon and a doily to add some layers and vintage goodness to this card. It's amazing what a little lace and ribbon can do!!!
Supplies used: Glitz Design Pretty In Pink 6x6 Pad Glitz Design French Kiss 6x6 Pad Glitz Design French Kiss Whatnots
Other Supplies: Papertrey Ink Rustic Cream Cardstock; Pink Paislee Ephemera; Doily, Buttons, Florals, and Seam Binding from my stash
Thanks for stopping by and I wish you a very Glitzy Day, Kristii